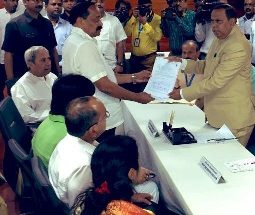 Bhubaneswar: The ruling BJD played woman card to checkmate BJP in the Rajya Sabha elections.
The party fielded Mamata Mahanta as its fourth candidate in the fray. While the three male candidates Subash Singh, Muna Khan and Sujit Kumar filed their nomination papers as first, second and third seats respectively, Mahanata, a woman leader from OBC Kudumi caste filed her papers for the fourth seat.
Even as speculations are rife that the BJP is going to field a fifth candidate in the fray ensuring an election for the four seat, the BJD's move is certainly going to put the saffron party in trouble.
The BJP now has to look for a woman candidate and preferably an OBC woman to contest against BJD's Mamata Mahanta at least to give a message to the State voters that the party is gender conscious and also caste sensitive.
Odisha chief minister Naveen Patnaik is know as a champion of women empowerment. He advocates strongly in favour of 33% reservation of woman in Lok Sabha and Assembly elections. Patnaik, in last Lok Sabha elections, fielded 7 women candidates against State's total 21 seats.
Even, this time round he has nominated a woman candidate against the four Rajaya Sabha seats, election for which is going to be held later this month.
To counter Naveen's woman card, the BJP, if at all it decides to filed a 5th candidate, has to nominate a woman to contest. The saffron party in Odisha, which is quite vocal in its support for OBC cause, has to look for a OBC woman candidate to play its politically correct card.
The high power Central Election Committee (CEC) of BJP is busy in Delhi's party headquarter to select candidates for the ensuring Rajya Sabha elections in various States. The CEC headed by party president JP Nadda met on Tuesday. The meeting was attended by prime minister Narendra Modi, home minister Shah and defence minister Rajnath Singh besides other members of the high power election committee.
As there are only two days left for the nominations to come to a close, all eyes are now on BJP.