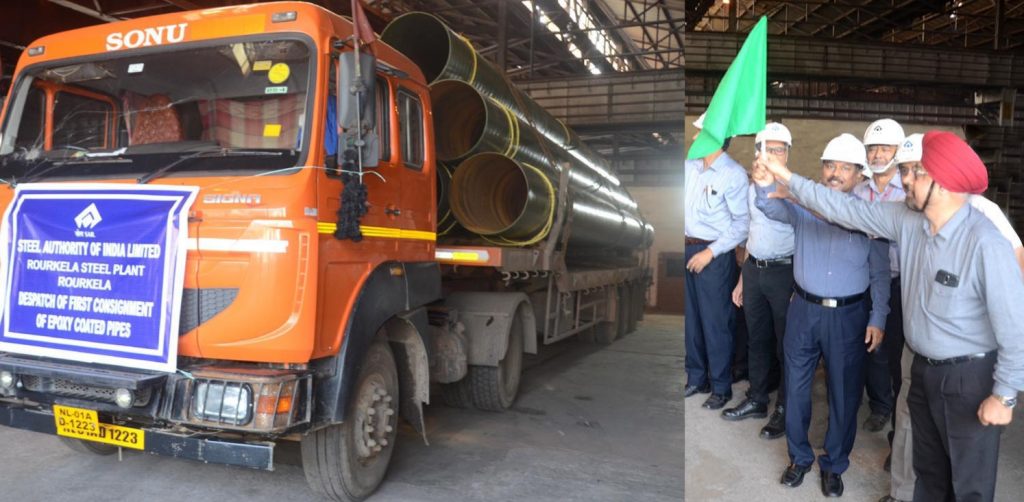 Rourkela : Rourkela Steel Plant (RSP) has dispatched a consignment of 30 tonnes of Epoxy Coated Pipes made from the Plant's revived Pipe Coating Plant for Durgapur Steel Plant.
RSP CEO Dipak Chattaraj flagged of the consignment on Saturday in the presence of CGM Incharge (Services) CR Mohapatra, CGM (PPC) Sanjoy Mohanty and CGM (Plate Mill) AK Pradhan.
The 3LPE Pipe Coating Plant, set up at RSP with tech-know how from M/s Socotherm spa, Italy, has facility for applying coatings on external surface of the pipes. The products meet all the requirements as per the DIN 30670 Specification. RSP is amongst the few select producers of coated pipes in this category. The Mill was however not in operation for last some years because of market dynamics.
Keeping in view the possible opportunities in the market the Mill was revived and made operational using in-house resources under the guidance of CEO Dipak Chattaraj. The Mill was restarted on 18th January 2020 and the first consignment of pipes was despatched to Durgapur Steel Plant.
It is worth mentioning here that pipelines carrying hazardous materials especially oil and gas need protective coating both on the inside and outside of the pipelines to combat the corrosive nature of the harsh outer environment and the derivatives of the load to be transported. The three layer system uses a co-polymer adhesive to provide excellent shear properties and an epoxy layer which provides corrosion resistance. Coatings are intended to form a continuous film of an electrical insulation material over the metallic surface to be protected. The function of such a coating is to isolate the metal from direct contact with the electrolyte, interposing a high electrical resistance so that electrochemical reactions do not occur.