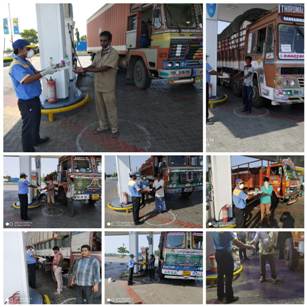 New Delhi: The Oil Marketing Companies (OMCs) of India–IOCL,BPCL and HPCL-announces Rs lakh ex-gratia to each of OMC personnel taking into consideration their service during this crisis of COVID-19 pandemic.
"OMC personnel like LPG showroom staff, godown-keepers, LPG mechanics and LPG delivery boys, retail outlet customer attendants, truck drivers including bulk/pack transporters, are risking their lives to ensure delivery of fuel to customers and fellow citizens", said an official press release adding, "As a goodwill gesture and in recognition of the services rendered in these difficult times, an ex-gratia amount of Rs 5 lakh has been announced as a one-time special measure, in the unfortunate case of demise of personnel due to COVID-19. The amount will be paid to the next of kin of the deceased.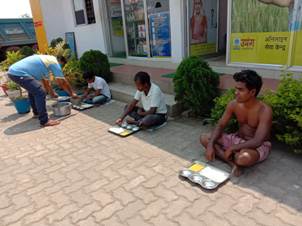 The OMCs have geared up to provide free refills for all the Ujjwala Yojana consumers for the next three months starting from 1st April 2020.
Eight Crore PMUY (Pradhan Mantri Ujjwala Yojana) beneficiaries will be entitled to free 14.2 kg LPG cylinders. Accordingly, it has been decided to transfer the full RSP (Retail Selling Price) of the refill cost for April"20, in advance, to the linked bank account of Ujjwala beneficiaries solely for the purpose of utilising this amount to purchase the free LPG cylinders.
The OMCs have assured that the LPG distributorships are having adequate stock to deliver gas cylinder on demand by the customer notwithstanding the Lockdown.
LPG customers are, therefore, advised not to resort to panic-booking or visit the showrooms and godowns of their LPG distributorships for obtaining refills, said the press release.
Apart from LPG supplies, All OMC retail outlets are functioning normally under the advisory of the state governments/local administration for maintaining essential services of petroleum products to the public.
The Corporation's terminals & depots, and fuel stations are well-stocked with petrol and diesel and there is no shortage of essential products. Customers are advised not to panic, or resort to hoarding and panic-buying.
As a part of Economic Response to COVID-19, OMCs are extending helping hand to ameliorate the hardships faced by poor due to economic disruption caused during Lockdown.
The OMCs are going to contributed Rs 1031 crore to the PM Cares Fund, while the employees have contributed Rs 61 crore to the Fund.
The union petroleum minister has welcomed the initiative of Oil Marketing Companies. In a Tweet, he said, "Welcome the humanitarian decision taken by Indian Oil, BPCL and HPCL. This gesture of goodwill is recognition of the services rendered by our personnel in these trying times. Well-being of our workers is of paramount importance; this compassionate move will strengthen the safety nets of our workforce aiding India's fight against corona."