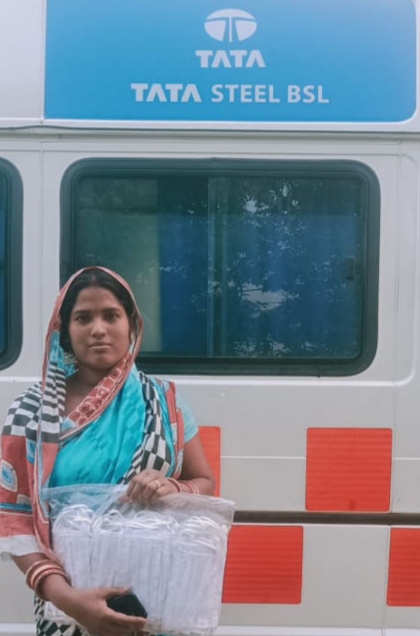 SHGs make 20,000 masks
Narendrapur(Odisha) : While the whole world is fighting the deadly Coronavirus, some women from villages of Dhenkanal have come forward to lend a helping hand to the people with support from Tata Steel BSL.
Members of Gruhalaxmi Cooperative Self Help Group ( SHG) of Dhenkanal district are preparing face masks to combat the virus from spreading. Around 20 women of the SHG from 3 nearby villages of Nuagaon, Kurunti and Asanbani under Hindol block are engaged in the mask making job.
Out of the 20,000 numbers they plan to make in the first phase, they have already delivered 13,000 masks. Tata Steel BSL has been supporting them for procuring the raw material. Once more raw material is arranged, which is getting delayed because of lockdown, more masks will be made.
The women are supplying the masks to local villagers. Balance masks will be purchased by Tata Steel BSL. Besides the company is also distributing it to the Anganwadi workers, health service providers, panchayat committee members of Kusupanga, Nuagaon, Sibapur, Mangalpur, Paikpuranakote of Dhenkanal and Nuahata panchayat of Angul district, who are engaged in various support services in villages like community kitchen, sanitation and other activities for the community.
Speaking on this initiative, Gruhalaxmi Cooperative Self Help Group SHG president Sabita Nayak of Narendrapur village, said, " Now many people need masks, but it's not available sufficiently. We wanted to help people at this difficult time by making masks with support from Tata Steel BSL. The CSR team of the Company has given us tailoring training and is helping us now with arrangement of raw material for mask making from Bhubaneswar."
Tata Steel BSL under its programme Women Empowerment and Entrepreneurship ( WEE) is working towards the economic and social empowerment of women in the periphery villages around its plant. More than 2000 women of 192 SHGs of 12 villages including Narendrapur, Sarpa, Raghunathpur, Ganthigadia, Kuchilamada, Kusupanga, Kurunti, Itap Asanbani, Nuagaon, Talbahal, etc are engaged in various activities like, tailoring training, phenyl making, mushroom cultivation, vegetable gardening.