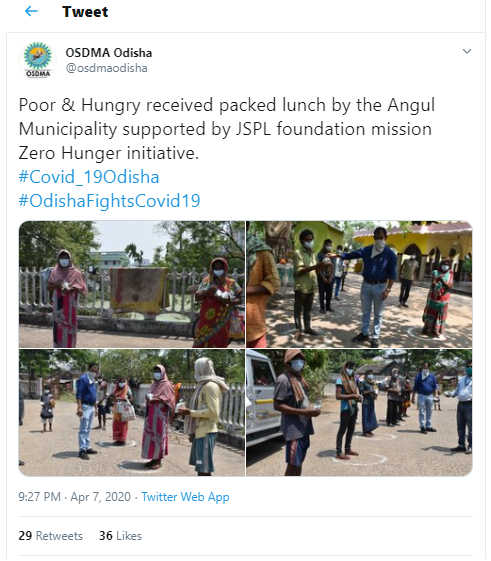 Bhubaneswar:Jindal Steel & Power Ltd (JSPL) has taken up various activities ranging from community sensitisation on physical distancing and sanitisation to feeding the hungry across all its operational locations in three districts of Odisha.
The steelmaker, through its CSR Arm JSPL Foundation, has been providing cooked as well as dry foods to the distressed and vulnerable people and distributing masks as well as personal hygiene products such as hand wash, soaps among the local community. JSPL Foundation has been organizing awareness sessions to sensitize the community on preventive measures to check the spread of CoronaVirus.
Like its other operational locations in India, JSPL Foundation has launched Mission Zero Hunger programme in Angul, Barbil and Tensa of Odisha. Under this programme, the Foundation is delivering hot cooked food to various needy people like truck drivers, migrants and other vulnerable communities, who are deprived of getting daily meals because of the lock down. Everyday more than 3500 meals are being distributed at these three locations in Odisha, in coordination with the respective local administration. District collector of Angul and Odisha State Disaster Management Authority (OSDMA), in separate tweets, have appreciated JSPL Foundation for this effort.
"Mission Zero Hunger is at the heart of JSPL Foundation's sustainable development goals to end hunger and achieve Food Security," said Chairperson of JSPL Foundation Shallu Jindal, in the reply to the tweet. As on April 12th, 2020 JSPL Foundation has distributed about 20000 meals across these three locations of Odisha.
Besides, institutions like Old age homes, Child care home, Shelter homes for the destitute women and homes for special children are provided with dry food materials such as rice, dal, oil, jaggery/sugar, chuda/poha, potatoes, onions, soyabean and black peas. Total 18 such institutions in the State are catered with these basic items to meet their minimum food requirement. Baby food for infants is also being provided. More than 600 people are benefitted with this service every day.
The women self-help groups (SHGs) with support of the Foundation are making both disposable and washable masks which are UV treated / sterilized. More than 1,20,000 masks have been distributed in the local community, work force and extension workers in coordination with the local administration. This is also helping more than 200 women SHG members, who are engaged in making masks, to earn additional income. The Foundation has also supported 1500 surgical masks and other essentials at government hospital, Barbil.
The SHGs, with support from JSPL Foundation, are also making and supplying phenyl and liquid herbal hand-wash to local institutions and households. More than 250 vegetable and dairy farmers are facilitated to make regular supply of their farm produce in the local community and market. This is creating a Win-Win situation for the Farmers and SHG members to have access to cash income every evening in this critical juncture.
The Foundation is also organising awareness sessions on prevention of COVID-19 pandemic in rural and tribal villages. Community members are being sensitised on social distancing, hand washing and hygiene, need for staying at home, following lock down rules to prevent spread of CoronaVirus through social media. In order to reach the Ho tribal community in Keonjhar awareness jingles in Ho language have been made and circulated by JSPL Foundation.