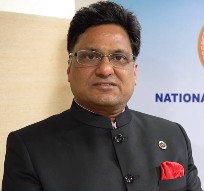 New Delhi: PHD Chamber of Commerce and Industry (PHDCCI) has suggested a calibrated exit from the lock down for consideration of the government to mitigate the daunting impact of pandemic Covid-19 and to achieve better economic growth in the coming quarters.
Industry body suggests a complete opening up of activities in all green zones, with 50% workforce, barring all social gatherings (including shopping malls, religious places) and mandatory social distancing.
Status quo to be maintained in all the hotspot areas with more strictness to fight the pandemic Covid-19, said the industry body.
The PHDCCI president Dr. DK Aggarwal said, "Considering the backward and forward linkages of business firms, it becomes necessary to enable the entire supply chain of trade and industry to resume their activities together (except hotspots districts) with mandatory health guidelines."
"As complementarities of inter-industry trade linkages are high in India, we suggest to resume the industrial activities across all the states and sectors with 50% and 25% workforce in green and non-hotspot areas respectively and barring the hotspot areas," said Dr Aggarwal.
Stating, " We appreciate that India's GDP growth is projected at 1.9% for FY 2021 and 7.4% in FY 2022 by the IMF which is one of the highest in the many advanced and emerging and developing economies," Dr Aggarwal added, "However, we can't afford a less than two percent economic growth as the country has to create lot of employment opportunities for the growing young workforce".
So, he suggested, "We have to convert the U shaped recovery into a V-shaped recovery with a growth rate of 4% in the current financial year with the financial support from the government and extra ordinary efforts by the trade and industry".
Dr. Agarwal explained, "Vision of 4% growth rate should target an average 5% growth in agriculture sector, 5% in industry and 5% in services in the Q2, Q3 and Q4 of 2020-21."
If Q1 of 2020-21 decelerates to less than 2%, the average for the year with improved growth in remaining quarters will support a 4% growth for the year 2020-21.
A significant stimulus of Rs 16 lakh crores which is 7% of GDP would help the economy to grow more than 4% in the current financial year 2020-21 and convert the U shape recovery in V shape and save lakhs of job losses in the country, said Dr Aggarwal.