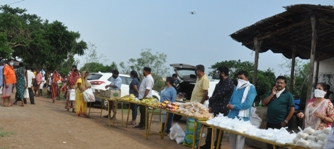 Bhubaneswar:   The Punjabi Arya Sanatan Biradari and the Mangal Sabha Thursday held a ration distribution camp at the Telegu Basti near the Chillipokhari area of Tankapani Road in the city.
Members of the Biradari and other social workers arranged the ration packets on open tables and asked the people in need to come and pick up whatever and how much they wanted. More than a hundred families were provided rations for a week. Besides Rice, Dal, Sooji, Cooking Oil, Sugar and condiments, vegetables, soap and masks too were provided. A temperature screening was done of all the people who had come. The ladies also counseled the people on hygiene and social distancing.
The President of the Biradari,Lajpat Chawla, has assured that they will undertake to keep the supply of rations to these families till the lock down is over. Sanjeev Hans, the secretary of the Biradari, said that while the authorities are doing all they can, the role of civil society in this hour of distress is vital. He urged the Biradari members to extend their full support for the needy.
Anil Dhir is of the opinion that the poor and needy should be given help with due dignity. He said that for this reason no handouts were given, rather the people were asked to come and pick up whatever they wanted.
The Biradari will ensure that every person in this place is provided with adequate rations till they go back to work. Bharati Girdhar said that this sort of distribution will be done after every three days and no one will be left out. Many of the ladies and youth of the Biradari assisted in the distribution.
Anil Dhir has appealed the citizens to give information by phone number 9861020747 about other left out people, who live on the fringes and are in distress.