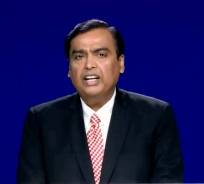 Mumbai: Reliance Jio posted a net profit of Rs 2,331 crore in Q4 ending on March 31,2020. The profit jumped by 72% over Rs 1,350 crore earned in Q4 of fiscal 2019-20.
The Jio's standalone revenue from operations, including access revenues, during Q4 is Rs 14,835 crore and EBITDA is Rs 6,201 crore with an EBITDA margin of 41.8%.
Net profit increased from ₹ 2,964 crore in FY 19 to ₹ 5,562 crore in FY 20, an annual increase of 88%.

Commenting on the results, Reliance Industries Ltd. chairman & managing director Mukesh D. Ambani said: "We are glad that we have made connectivity and operations easier for our customers in these difficult times. Every Jio employee is trained to think Customer First and that has resulted in overwhelming customer response as we are serving close to 40 crore Indians now. Jio continues to lead the digital revolution in India and the whole-hearted acceptance of our services motivates us to keep improving every day."
"Jio is embarking on the next leg of growth with a path-defining partnership with one of the world's largest digital companies, Facebook. We are together determined to make India a truly digital society with best-in-class connectivity network complemented with disruptive digital technology platforms for entertainment, commerce, communication, finance, education and health harnessing world's best tech capabilities. Our focus will be India's 60 million micro, small and medium businesses, 120 million farmers, 30 million small merchants and millions of small and medium enterprises in the informal sector."
Jio is the digital lifeline of 388 million Indians with seamless wireless and wireline data connectivity across the country.