Bhubaneswar: Odihsa Tourism Development Corporation (OTDC) has entered into agreements with online food delivery concerns Zomato and Swiggy for distribution of OTDC cooked foods.
Launching the initiative "Pasanda Apanakar, Rosai Amara", the OTDC started the online food delivery systems in the presence of tourism minister Jyotiprakash Panigrahi, OTDC chairperson Srimayee Mishra, managing director Hemakanta Sai and senior executives of Zomato and Swiggy, here on Friday.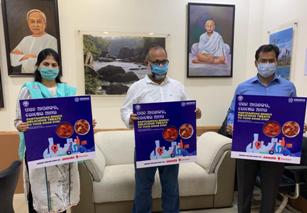 As per the agreement, Zomato and Swiggy would deliver at the doorstep as per the order the food prepared by the four premier Panthnivwas, run by OTDC at Bhubaneswar, Puri, Cuttack and Rourkela.
OTDC chairperson Srimayee Mishra said that the Corporation would make an endeavour to reach to the people with traditional Odia cuisine like Poda Pitha on Odia festivals like Raja. She said that the OTDC would enter into such arrangements with other on-line delivery concerns in future too.