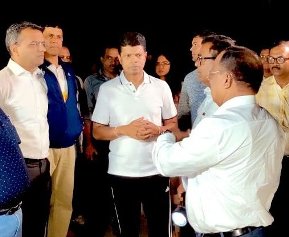 Bhubaneswar: Odisha chief minister's secretary VK Pandian talked to Sarpances of Ganjam district on Saturday.
Pandian, who is also the 5T secretary, gave leadership tips to the Sarpanches. He explaned them about their leadership role in managing quarantine centres.
The State government has delegated collector power to Sarpanches in its fight against the Covid-19 pandemic. Manitara Sarpanch Santilata Nayak has excercised her collector power and declared shot down of the Panchayat for seven days.
Pandian emphasized the fact that as of now all the positives in Ganjam are of returnees from other States and are placed in quarantine centers, so no need to feel scared.
Strict maintenance of quarantine centers will make the difference between success or failure in our fight against corona, he said adding that Sarpanches have a major role in that and realizing this government has vested powers of collector.
"Sarpanchs have played multifarious roles in development, education, social security, food security etc but thier role in providing leadership in fight against Cornovirus will always be remembered by people of their villages."
"They will celebrate those Sarpanches who successfully stop coronavirus from entering their villages," he said.
Pandian, who was collector Ganjam, is a popular bureaucrat in the district. He personally knows many of the Sarpanches in the district.
Ganjam district has emerged as super hotspot with over 50 cases of Covid positive in a fortnight.