New Delhi: The supreme court Tuesday served notices to the Centre and the State governments on the migrant workers crisis.
The apex court, while taking suo motu cognisance of the plight of lakhs of stranded migrant workers across the country, has observed that there were "inadequacies and lapses" in the handling of the crisis.
"We take suo motu cognizance of problems and miseries of migrant labourers, who had been stranded in different parts of the country. The newspaper reports and the media reports have been continuously showing the unfortunate and miserable conditions of migrant labourers walking on-foot and cycles from long distances," said a bench of the court comprising justices Ashok Bhushan, Sanjay Kishan Kaul and M R Shah.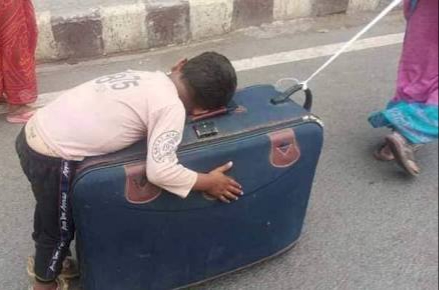 The court pulled up the Centre and the State governments for crisis Stating that the migrants' crisis continues even today.
The bench said there had been lapses on part of the Centre and state governments and directed immediate measures be taken to provide travel, food and shelter to the migrant labourers.
"In the present situation of lockdown in the entire country, this section of the society needs succor and help by the concerned governments, especially steps need to be taken by the Government of India, State governments/UTs in this difficult situation to extend a helping hand to these migrant labourers."
The matter has been listed for further hearing on 28th May and the solicitor general Tushar Mehta has been asked to assist the court on the issue of migrant labourers.