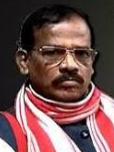 Bhubaneswar: Left activists of Odisha will observe one day fasting in respect of Corona mrtyars and migrant workers who lost their lives due to the mismanagement of lock down by the Central government.
CPI leader and former legislator Narayan Reddy told the India Whispers that the activists of left parties, it's frontal organisation and people's movement will observe one day fasting paying tribute to Corona warriors who died in the fight against the pandemic and the migrant workers who were killed due to the lock down mismanagement by Modi government at the Centre.
Reddy said that the left activists would sing Bande Utkal Janani at 5.30pm on Saturday as per the appeal of the chief minister Naveen Patnaik.