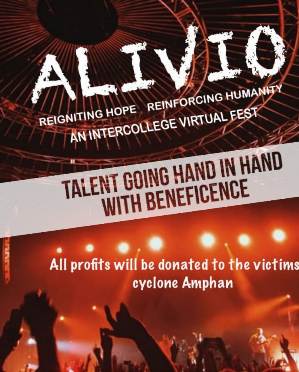 Bhubaneswar: The Students' Union of AIIMS Bhubaneswar is holding an online all India level inter-college fundraiser fest, Alivio, between 30th March and 10th June, to help the victims of the cyclone Amphan. Students' Union AIIM-B vice president Sanket Kar said that the donations and profits from the event will be go to the chief minister's relief fund of West Bengal.
Kar said several medical colleges across the country have joined the virtual fest. All the events in Alivio will have cash prizes.
Clirnet and Elsivier are main sponsorers of the event.
Kar has appealed to individuals and organisation to chip in with donations and contributions to extend a helping hand to the victims of the recent cyclone Amphan which caused widespread devastation in West Bengal.
The Students' Union of AIIMS-B will host as part of Alivio some of the events like Capturar for photography, Quadrille dance competition, Escribe Pensamiento, Ludu King, Davinci's Scribbles for poster designing competition, Knock Down chess tournament,