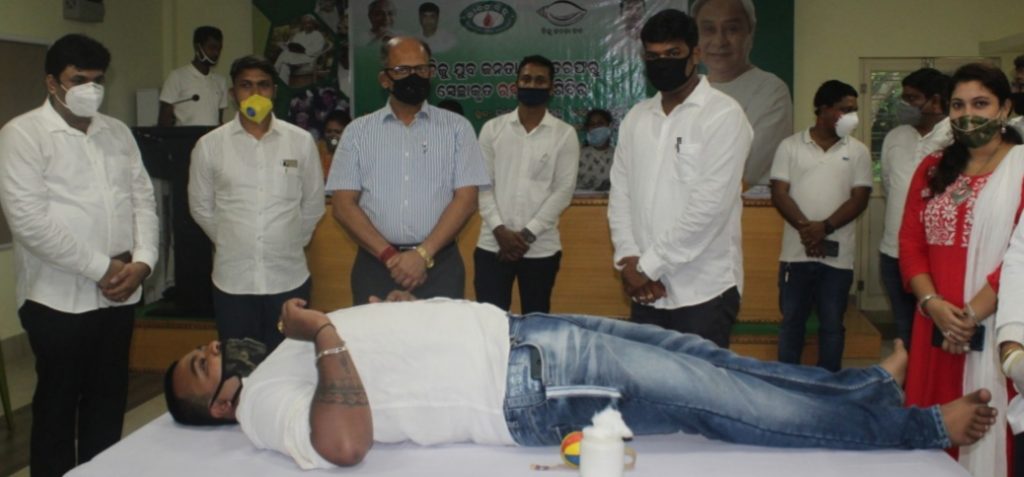 Bhubaneswar: Biju Yuva Janata Dal (BYJD) organised a blood donation camp, here at the BYJD headquarter on Tuesday.
The camp organised under the leadership of BYJD president Amresh Patri was inaugurated by I & PR minister Raghu Nandan Das.
State coordinator of Jiban Bindu programme Debasish Samantray, Jaipur MLA Pranab Prakash Das, State Planning Board deputy chairman Sanjay Dasburma, Dharmasala MLA Pranab Balbantray, BJD Rajya Sabha MP and IT wing head Amar Patnaik and Jiban Bindu s State coordinator Bijaya Nayak were present.
BYJD's State organising secretary of Jiban Hindu programme Rashmi Ranjan Das coordinated the camp. A total of 35 unis of blood was collected in the camp.
Kuna Bihari Das, Santos Bez, Dhruti Ranjan Martha, Madhusmita Parida, Malaya Ranjan Patient, Nihar Ranjan Behera, Subhransu Narayan Mishra, Asish Mishra, Abinash Pradhan, Purnendu Pujapanda, Dusyanta Behera, Alok Behera, Deepak Kumar Sahu, Soumya Sarthak Ray, Chetan Mohapatra, Dipti Ranjan Pal, Biswajyoti Behera, Jonali Lani and Lipsa Das attended the camp.