Bhubaneswar: Two persons, including the pilot, killed when a trainer aircraft plunged on the ground of Birasala Airstrip in Kamakhyanagar of Dhenkanal district on Monday morning at 6.30 am. Along with the pilot a woman trainee has been killed.
Sources said the two-seater aircraft crashed soon after it took off from the runway of Birasala airstrip. The plane plunged from a height of 100 feet in between two aircrafts parked in the airstrip.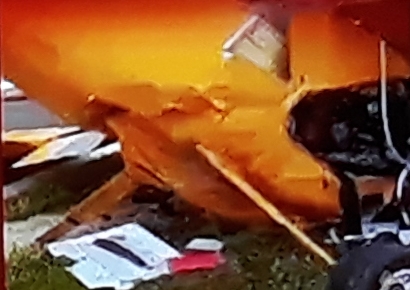 The pilot and the trainee were shifted to Kamakhyanagar hospital where the doctors declared them dead.
While the pilot captain Sanjeev Kumar Jha of Bihar, the trainee Aneesh Fatima is from Tamil Nadu.
A team from Director General of Civil Aviation (DGCA) is expected arrive for an on the spot probe into the incident.
The Government Aviation Training Institute (GATI) has shared it training activities to Birasala airstrip two years back as the traffic at Bhubaneswar airport increased. The Birasala airstrip under Kankadahada block of Dhenkanal district has come up over an area of 17 acres land with a cost of Rs 9 crore.