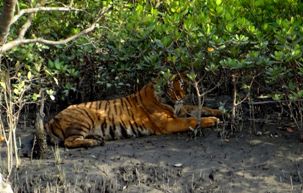 Kolkata: A tiger has killed a man in Sunderban area of South 24 Pragana districts of West Bengal on Saturday.
The tiger attacked the 35-year-old Goshtho Naiya of Deulbari village of Kultali block of the district who had been to nearby Chituri forest in the Sunderban to catch crab.
Police said, a tiger mauled him and dragged his body deep inside the forest. However, when people accompanying Naiya raised an alarm, the tiger fled away leaving the body. The body has been recovered, said the police.