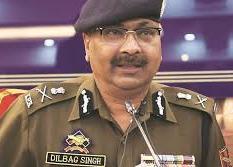 Jammu:The bizarre bickering in the top echelon of the Jammu & Kashmir police has come to the public domain with IGP(traffic) Basant Kumar Rath filing a written complaint against his Director General of Police Dilbag Singh.
An Odia IPS officer of 2000 batch known for his Dabang style, Rath has lodged a complaint with the SHO of Jammu's Gandhi Nagar Police Station, stating that while he was not asking authorities to file an FIR, they should make a note of his complaint in case something untoward happens to him.
"Requesting you to take note of my apprehension about my life, liberty and bald head the reason being certain activities of Dilbag Singh, IPS batch 1987 batch, presently DGP," the IGP(traffic) has mentioned in his complaint.
"I'm writing you to take note of my genuine apprehensions about my safety and reputation. I'm doing it as a private citizen of this country. In my personal capacity, not as a civil servant, not as a policeman," the complaint reads.
"I'm not asking you to lodge an FIR against the person mentioned above. I'm just asking you to make this letter a part of the daily diary in your police station. In case something bad happens to me, you should know whose number you should dial..," Rath further stated.
The spat between the top cops came to fore earlier this month when Rath took to Twitter and posted a message tagging an unverified twitter handle 'Dilbag Singh'. "Hi, Dilbag Singh. Can I call you Dilloo? Are you the one who owns 50 canals (six acres) of land in Sarore near the dental college?," Rath had tweeted.
Dilbag Singh, however, dismissed all the allegations made by Rath.