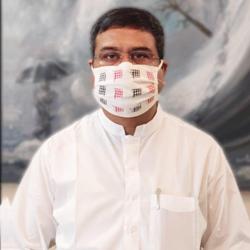 New Delhi: Union minister for petroleum and natural gas and steel Dharmendra Pradhan, along with the Haryana chief minister Manohar Lal, Monday laid the foundation stone of Indian Oil's state-of-the-art Technology Development & Deployment Centre as its second R&D Campus at IMT in Faridabad.
The new Centre will come up over an area of 59 acres with an investment of Rs. 2282 crore. The new campus would focus on demonstration and deployment of various technologies developed by IndianOil R&D, and will work in tandem with the existing campus in Faridabad.
The research infrastructure at the new campus includes state-of-the-art laboratories and pilot plants in the domains of alternative & renewable energy such as fuel cell, hydrogen, gasification and solar energy research, semi-commercial nano-material production unit, scale-up/pilot plants in petrochemicals, catalysts, biotechnology, etc. This new extension of Indian Oil's R&D Centre is going to focus on non-conventional energy domains besides the conventional ones and will aim at indigenisation of several frontline and sunrise technologies such as Petrochemicals, Batteries/Energy Storage Devices, Bio-Energy- Greenhouse gas (CO2) capture, Novel nano materials for catalysts or fuel cells, Hydrogen production pathways and Fuel cells for both mobility and stationary applications.