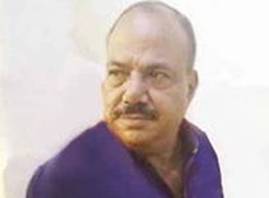 Bhopal: Madhya Pradesh's notorious media man Pyare Mian was arrested at Srinagar in Jammu & Kashmir. A police team has lefet for Sringagar on Wednesday to bring back Pyare Mian.
The 68 year old Pyare Mian, owner of a newspaper Afkar, is facing charges of rape of minor girls and running sex rackets. Mian is used to procure minor girl and sexually exploit them. He had taken some of the girls to countries like UK, Switzerland and Thailand few years ago.
Mian had been running the daily newspaper with government advertisements and had managed occupy a government quarter in the city.
The police raided an apartment of Mian on Tuesday and to their surprise they found the interior has been converted into a dance bar. Police seized huge quantity of costly liquor bottles. They also found child pronographic materials, sex toys and antlers in the apartment.