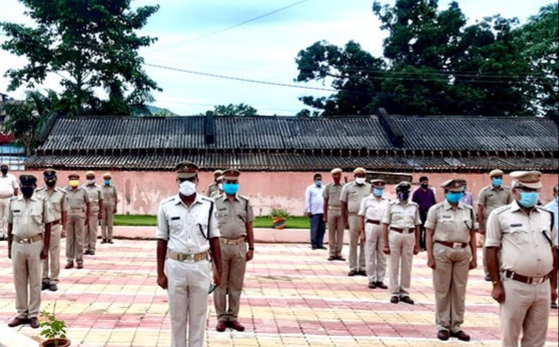 Cuttack: Over 400 police officers and policemen offered silent prayer in respect of the Covid warriors of the State.
Police personnels gathered in the police head quarter reserve ground in Bauxi Bazaar of the city to pray and take oath in respect of the Covid warriors. The police officers and policemen of head quarter, crime branch and State Human Rights Protection Cell joined the prayer. The police pipe band troupe also joined the prayer.
DG police Abhaya, additional DG Binayatosh Mishra, Soumendra Priyadarshi, IG Rekha Lohani, Jatindra Koel, Amitendra Nath Sinha, Prabin Kumar and AIG Bivekananda Sharma offered silent prayers and took the oath administrated by chief minister Naveen Patnaik through video conferencing. AIG Balakrushna Hits, assistant commandant Pankaj Kumar Nayak and subedar Ashok Kumar Behera conducted the programme.
On this occasion, rich tributes were paid to police personnels who died in Covid-19 while on Corona duty. ASI Rabi Narayan Behera, Sibram Das, Krushna Chandra Mandal, constable Golak Nayak and home guards Satya Ranjan Sethi and S Narsingha Das died in Covid while on duty.