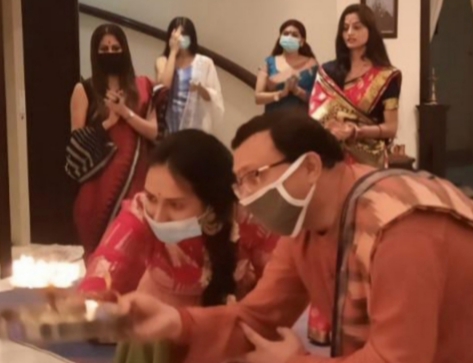 Bahrain: Odia Samaj , Kingdom of Bahrain, celebrated Covid-19 compliant Ganesha Puja at the residence of the founder chairman Dr. Arun Kumar Prahara. The number of devotees present were few as most of the devotees enjoyed the Puja through zoom webinar.
Dr. Praharaj said, " We used to celebrate all indian festivals with our traditional rituals -Holi , Deepawali , Dashera- before the outbreak of Covid-19 pandemic in Bahrain with the participation of Bahraini people. Last year we had celebrated Rathayatra of the Lord Jagannath in Shree Nathji temple, Manama with the participation of more than 5000 devotees. During Covid-19 also we have tried to preserve our cultural values without compromising the Covid-19 guidelines and strictly maintaining the safety regulations."
Bahrain Odia Samaj executive members Subas Sahoo, Ramesh Panigrahi, Himanshu Taldi , Amiya Swain , Snehanjali Panigrahi , Sunita Praharaj took special initiative to arrange this program to keep our cultural values intact during these difficult times.