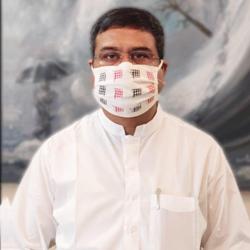 New Delhi: Union steel minister Dharmendra Pradhan Friday urged the AecelorMittal Nippon Steels India (AM/NS India), a joint venture of two steel giants of the world, to invest in Odisha to achieve it's target to produce 30 million tonnes per annum in the country.
Pradhan, who along with his ministry official had a high-level meeting with the steel joint venture company, appealed the ArcelorMittal Nippon Steel to invest in Kalinga Nahgar Steel hub to add 12 million tonnes steel making capacity in the State. He also urged the company to ramp up it's Paradip Pellet Plant capacity.
Pradhan said that the steel company should also contribute for the development of the Biju Patnaik National Steel Institute to be set in Kalinga Nagar.
The ArcelorMittal Nippon Steel has acquired the steel business of Essar Group for Rs 42,000 crore through NCLT route. As part of the assets, the company has got the Paradip Pallet Plant and the slurry pipeline in Odisha.