Bhubaneswar: Secretary to chief minister (5 T ) VK Pandian Saturday visited Puri and reviewed the progress of development of Swargadwar, Gosala for stray cattle and rehabilitation of beggars .
Puri the abode of Mahaprabu attracts large number of pilgrims across the Globe every year .And is also one amongst the four most sacred place of India ,chari Dham
.
After the devastating cyclone FANI the chief minister Sri Naveen patnaik had announced his commitment to develop Puri as a world heritage city .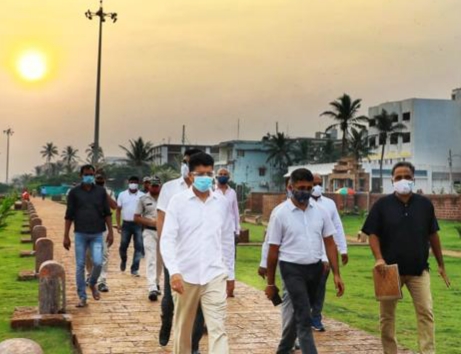 As part of the 5T initiative a number of work has started in this regard since then to give Puri it's rightful place in the world tourisim map.
Redevelopment of Swargadwar constitutes an important part of the initative .
Accordingly the work has started with funding from CMRF. The redevelopment work will be completed by next March .
As an interim measure rest shed and other facilities are being provided to people visiting swargadwar for cremation of their relatives.
To make the Badadanada clean the stray cattle have also been shifted to Gosalas. Over 700 cattle have been shifted from Badadanda to Gosalas and another 400 will be shifted in next one month. Funding for next 5 years for feed and maintenance has been tied up from CMRF .
Similarly steps have also been taken for rehabilitation of beggers of Badadanda so that they can lead a respectful life
In the meantime 500 beggers have been rescued from Badadanda and rehabilitated in various institutions
Out of the rescued 150 have been traced and reunited with their families .
Funding is being met from the state government .
Pandian also visited Banki Muhana and Puri blue flag beach .Niladri beach .
During the review Puri collector, BMC and CMC commissioners were also present.
BMC and CMC will also take up shifting of stray cattle and rehabilitate in Gosalas of their respective areas .
They will also start rehabilitation work of beggers in their areas .
These initiatives to give Puri a fresh new look will usher in a historic generational change.