By Trailokya Jena
Football critics and connoisseurs have always struggled to decide between Pele and Maradona as the best footballer in modern times. But few would have doubted about whose obituary would appear first. That was until last night when fate decided otherwise. So I am forced rethink my whole memories of football which I've followed through all means available to me since I was 11 years old.
The 1966 World Cup held in England was prominently covered in our media(that was print media exclusively then), since English news feed used to dominate this country overwhelming us with daily update of English sports like their country cricket scores, Football League results, Wimbledon Tennis, Rugby Union and even Epsom Derby! The 1966 World Cup held my raft attention for the hacking of Pele leading to his and Brazil's early exit. England's eventual winning goal got embroiled in a huge goal line controversy that kept news papers busy with football stories month after month which made it easy for me to get my teeth into English and World football. That German goal line incident in 1966 final remained the biggest controversy in football history until a certain Maradona leapt in the air to score at England's end with the famous 'Hand of God' in Mexico 1986.
The legend of Maradona, who came from those ubiquitous Latin football ghettos, was growing since he was selected to play for his country as a 16 years old and was in Argentina's 1978 WC winning team though he didn't get a game in there. By the time 1982 WC came in Spain, Maradona was a household name for his footballing prowess and the world record £3m Barcelona bought him for. He had become a global everyday superstar which Pele wasn't due to lack of television invasion during the latter's time. However, too much of popular adulation and all out defenders' attention prevented him from actualising the hype, so much so that he was sent off in defeat to Brazil. Soon after he was fouled out of every Spanish league games by cynical defenders until a career threatening one by Andoni Goikoetxea forced him to leave Spain. His transfer to crime syndicate owned Napoli FC for yet another world record £5m unleashed a golden chapter in his career. He blossomed at Napoli helping that unheralded Club's maiden win of Italian League(the toughest at the time) in 1987 and 1990 and to win in between the UEFA League in 1989.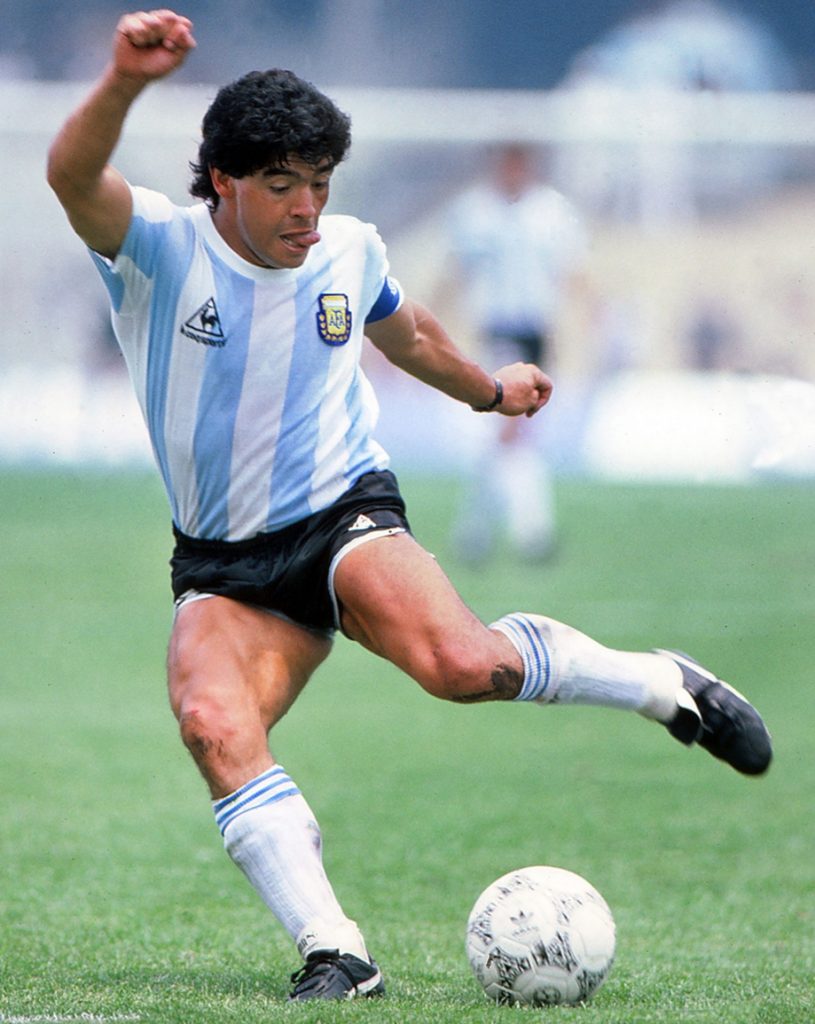 However, the crowning glory for the 5ft 5 pocket dynamo came in the 1986 World Cup that forever triggered his claim over Pele as the greatest footballer ever. Pele figured in the great Brazilian team as a teenager in 1958 and contributed to Brazil's maiden triumph there. He won the WC again 1962 though he was injured half way in that tournament. Cynical fouling by Bulgarian defenders injured him out of the game which became a prominent factor in Brazil's ouster in 1966 WC. But he came back as a matured footballer in 1970 to win his and Brazil's third WC inside12 years. That 1970 Brazil team is regarded as many as the greatest football team ever, a theme of constant footballing debate till date. But the fact is Pele always played alongside great footballers to include Garrincha, Santos, Tostao, Gerson, Rivellino, Carlos Alberto, Jairzinho to name a few. Winning WCs with such teammates would be matter of routine whereas Maradona had no such luxury, either for country or for club. Yet he slugged on with all his energy and trickery to win all that he won, one must say almost single handedly.
That's where my judgement falters in choosing the best footballer of my time. And my time includes a few more greats too like Johan Cruyff, Frank Beckenbaur, Zinedine Zidane, Ronaldo original and the two contemporary greats Messi and Christiano Ronaldo. Out of them I would outright reject the two active stars for Messi with all his genius has won nothing for his country. Christiano has won only one national title(reigning European National) where he was out of the game in the first quarter of the final. The greatness of these two in my book is more driven by commercial media and statisticians of the game than historic footballing achievements. Zidane and Beckenbaur won while Cruyff lost with so many other stars around them in the team.
That's where Maradona's genius comes to the fore. That WC winning Argentina of 1986 was practically a one man team. While his first goal in the quarter final against England had something to do with hand of god, the second goal was purity from the feet of Diego! So much has been written about that goal and his other one against Belgium in the semifinal, I can hardly add anything to the purity of their aesthetics. The hitherto dominating English sports media have a hand in running Maradona down as they do practically against all non English stars. But lately the English strangle hold on greatness endorsement is considerably eroded.
Football has grown to become a kind of global religion since. And the great irony is it has turned the table on Cricket in India. While football in my childhood was the game of the masses and cricket of the elite, it's the other way round now. The present generation hardly knows Pele and only just heard about Maradona, more for the scandals in his life than the dazzling football he once played. Cricket in upper class drawing room is viewed as plebeian and the English Premier League Football is seen as mass consumption material. It's the Spanish La Liga or German Bundesliga which are the flavours of high brow football purists.
Latin American football is now a grave yard as every kid from age 8-10 with footballing gift is picked up by scouts for the Academies of Ajax Amsterdam, Borussia Dortmund, Barcelona FC, Real Madrid CF or any of those elite English Clubs. Deep Africa has come to offer more natural footballing talent than Latin America. We have our own cable tv and press for not to follow the English sports press while English media religiously publish IPL scorecards!
New footballing temples have been found and new gods worshipped. But there is one corner on earth where Maradona is literally worshipped with his bust as idol, a corner where I lived the best years of my youth, a place then called Calcutta. I notice more people with Argentina shirts there on a footballing day than any other place I know. I don't include Buenos Aires here as I have never been to Argentina.
I may still like Pele as a footballer and a gentleman, but I can never erase two footballing memories etched in my mind, two moments of footballing genius I saw live on TV. The first one is the 1986 WC final when, the game poised at 2-2, Maradona from his own box finds Jorge Buruchaga free on the left touch line who rushes with the ball to beat the German goalkeeper to win Argentina the WC. The other relates to WC four years later where the entire Argentina team defends in their own half throughout the game and in the 90the minute Maradona plays a blinder of a pass to Claudio Caniggia standing on the centre circle who carries the ball to beat the Brazilian goalie to put Argentina in the final. When that sort of a genius dies, it's death of a bit football history too.
(Jena is former principal chief commissioner, Income Tax)