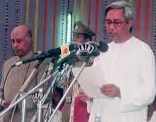 Bhubaneswar: The memoirs Odisha's former governor MM Rajendran is bound to kick off a political controversy in the State.
Rajendran's recounts of Odisha innings is certainly going to create ripples in political circle here.
In Service Uninterrupted: Memoirs of MM Rajendran published by Har-Anand Publications, the former governor has stopped short of saying that he was the political master of the when Naveen Patnaik, Girdhar Gomang and Hemananda Biswal were chief minister during his gubernatorial tenure.
When the super cyclone hit the Odisha coast in October 1999, "The chief secretary had been allowed to go on leave…", Rajendran recalls adding, chief minister Gomang telling him in "no uncertain terms" that he had no objections to the governor providing leadership for relief and rehabilitation work. Thereupon the governor coordinated the rebuilding of Odisha.
Rajendran claims that even Gomang's successors Hemananda Biswal and Naveen Patnaik also looked up to him for guidance. The memoirs say Parnaik endorsed the Governor's meetings with district officials. Patnaik even got his list of Council of Ministers vetted by the governor. Rajendran claims that Naveen dropped two names from the list in honour of the objections by the governor.
Rajendran's claim that the chief ministers were plying second fiddle during his governorship when it comes to governance of the State is not going to be taken lightly by the then chief ministers.
Rajendran was governor of Odisha between 15th November 1999 and 17th November 2004. While Gomang and Hemananda Biswal were Congress chief minister in 1999, Naveen took over as CM in 2000.
In fact, the bitterness between the Naveen Patnaik government and the governor Rajendran was quite obvious at that time. Juicy stories about the attitude and behaviour of the governor was doing round at that time.