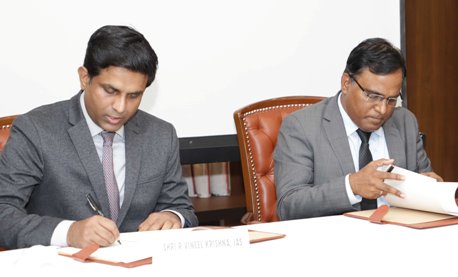 Bhubaneswar: Mineral Exploration Corporation Limited (MECL), a Central sector unit under ministry of mines, has signed an MoU with Odisha Mineral Exploration Corporation Limited (OMECL), here on Thursday, for augmenting the exploration of Odisha's rich mineral resources. The MoU was signed on behalf of MECL by its CMD Dr. Ranjit Rath, and for OMECL its MD ShriVineel Krishna in the presence union mines minister Pralhad Joshi, Odisha steel & mines minister PrafullaMallick, chief secretary Suresh Chandra Mohapatra, and steel & mines secretary and OMC chairman iSurendra Kumar.
Odisha state is endowed with large resources of bauxite, chinaclay, chromite, coal, dolomite, fireclay, graphite, gemstones, iron ore, limestone, manganese ore, mineral sand, nickel ore, pyrophylite and quartz. Odisha is the leading producer of chromite, graphite, bauxite, manganese ore, iron ore, sillimanite, quartzite, pyroxenite and dolomite. The State hosts the country's sole resources of ruby and platinum group of metals. It accounts for the country's 95% chromite, 92% nickel ore, 69% cobalt ore, 55% bauxite, 51% titaniferous magnetite, 40% limestone, 36% pyrophyllite, 33% iron ore (hematite), 26% sillimanite, 25% each fireclay & garnet, 24% each coal & zircon and 20% vanadium ore resources.
With an impeccable credential of over 48 years, as a notified exploration agency, MECL having its headquarter at Nagpur is mandated to undertake detailed exploration of mineral acreages and currently operates pan India with a portfolio of all the major and precious minerals offering integrated mineral exploration services including preparation of Geological Reports and consultancies to Central government, State governments and Central PSUs. Government of Odisha has established OMECL to strengthen institutional set up for mineral exploration in the State, and to upscale the mineral exploration activities so that the potential of mining sector is achieved through scientific exploration of mineral resources.
MECL CMD Dr. Ranjit Rath said that by joining hand with OMECL the exploration activities in the State will be augmented and additional mineral resources in the State will be established, which will lead to identification of more blocks for auctioning in the Greenfield as well as Brownfield area.