Bhubaneswar : The three day Mukteswar Odissi Dance Fest 2021 came to a close on Saturday with spellbinding performances of Odissi by renowned Odissi dancers of national and international repute showcasing the varied items of Odissi repertoire. It was as if the dancing damsels coming alive out of the 10th century AD monument Mukteswar Temple, indisputably one of the most refined and beautiful temples of Odisha.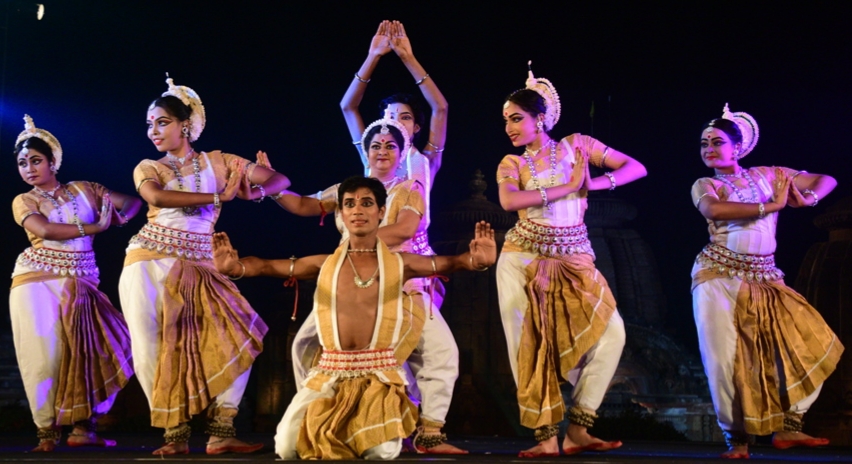 The evening's programme started with lighting of the lamp by culture minister Jyoti Prakash Panigrahi, OTDC chairman Shreemaye Mishra, Odissi dance guru Padmashri Aruna Mohanty, tourism director Sachin Ramachandra Jadhav, and GKCM Odissi Research Centre chief executive Dr. Sangita Gosain.
The first programme of the evening was the Chorus in honour of Lord Shiva eulogizing the glory of Lord Shiva presented by Eminent Music Director Guru Srinibas Satapathy and his group.
Renowned Odissi hearing impaired danseuse Sonali Mohapatra started her programme with Mangalacharan – Shiva followed by Abhinaya Sajani Go Najani Pirati Jaha Kali choreography by Durga Charan Ranbir and music composition by Sukanta Kumar Kundu. Her last item was Pallavi – Raga Saranga choreography by herself and music composition by Guru Nirmal Kumar Mohapatra. Her intricate foot movements well articulated through symbolic gestures had evoked a spirit of spirituality and universal bliss depicting perfect synchronization of aesthetics and artistic elegance.
In duet Sripunya Mohanty and Pratap Barik who presented Pallavi – Raga Nagoballi choreography by Guru Aruna Mohanty followed by Abhinaya Su Mukha Gunakeshi choreography by Guru Aruna Mohanty and music composition by Guru Dhaneswar Swain.
The concluding item of concluding evening was a Group Odissi presentation by Jyotsnarani Sahoo and Group of Soor Mandir, Cuttack. Their first item was Vandana-Shivamaya followed by Geetabhinay – Rasanuraga and last item was Sudha Nrutya – Keerti Kalabati choreography by Guru Dr. Jyotsnarani Sahoo and music composition by Guru Swapneswar Chakraborty.
The programme was anchored by Dr. En. Srinivas Ghatuari and Sanhati Pani. Officers/ Staffs from Tourism Department, OTDC and Sangita Nataka Academy were coordinating during the festival. The lighting of the event was conducted by Debi Prasad Mishra.