Bhubaneswar: Vishva Odisha, an organisation working to unite Odia diaspora for development of the State, has appointed Dr. Arun Kumar Praharaj as honoray Goodwill Ambassador for Bahrain.
Dr. Praharaj has been appointed as chairman of Vishva Odisha International Council. Dr. Adrish Bramhadutta, founder of Kalinga Mitra Samaj, has been nominated as secretary of the Council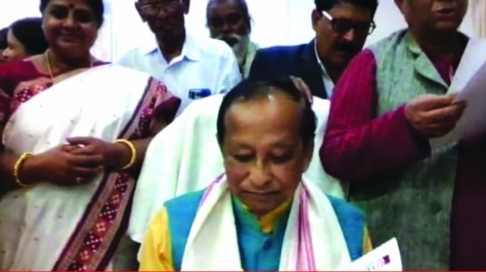 A ardent devotee of Lord Jagannath, Bahrain based Dr Praharaj is the founder of Odia Samaj in that country. As a true representative of Brand Odisha, he has dedicatedly promoted Odisha in Bahrain. He has played a memorable role in helping out Odias stranded in Bahrain during the global lockdown following the breakout of the pandemic.
Odisha State Assembly speaker Surya Narayan Patro, who is the president of Vishva Odisha has given the Goodwill Ambassador appointment letter to Dr Arun under his signature.
As per the suggestion of the speaker Patra, to make this year's programme more vibrant and progressive, Goodwill Ambassadors were appointed for 21 different countries of the world, so that they can establish and promote the goodwill of Brand Odisha and exchange developmental programmes in their respective countries.
The man behind the entire synergy, general secretary & coordinator of the Vishva Odisha Manoj Manmay declared the names of Vishva Odisha Goodwill Ambassadors from 21 different countries. They are : Dr. Arun Kumar Praharaj, Bahrain, Kunna Das, Japan, Shital Kumar Palbabu, Myamar, Dr. Adrish Brahmadatta, Thailand, Devarshi Malik, Indonesia, Dr. Malay Nayak, United Kingdom, Aklesh Bibhudatta, Vietnam, Sanjeev Barik, Ireland, Chandrashekhar Khuntia, United Arab Emirates, Manas Pradhan, United Arab Emirates (Culture), Subhas Sahu, Bahrain (Culture), Santosh Mishra, Russia, Sumita Sahu, Finland, Girija Shankar Padhi, Kuwait, Mantosh Sathpathy, Thailand, Debashis Srichandan, Italy, Sushmita Jyotishi, United States, Soumya Padhi, Canada, Dipti Ranjan Nanda, Malasia, Malay Mohanty, South Africa Ramesh Biswal, Nigeria, and Bidya Bhusan Mohanty, Qatar
The Vishva Odisha Global Council was established today with all the Goodwill Ambassadors appointed from the various countries and Dr. Arun Kumar Praharaj as the chairman of the Global Council of Vishva Odisha
Vishva Odisha is a global campaign to preserve and promote the richness of Odisha in the world.