Bhubaneswar: Curtain downed on the 17th Dhauli Kalinga Mahotsav on Monday.
Organised by Odisha tourism department in collaboration with Orissa Dance Academy, Bhubaneswar and Art Vision, Bhubaneswar the festival ended with reverberating the gospel of peace and rejuvenating the nuances of Indian classical dances, classical folk fusion and Chhau dance. The valedictory evening was really a splendid one leaving the connoisseurs mesmerized.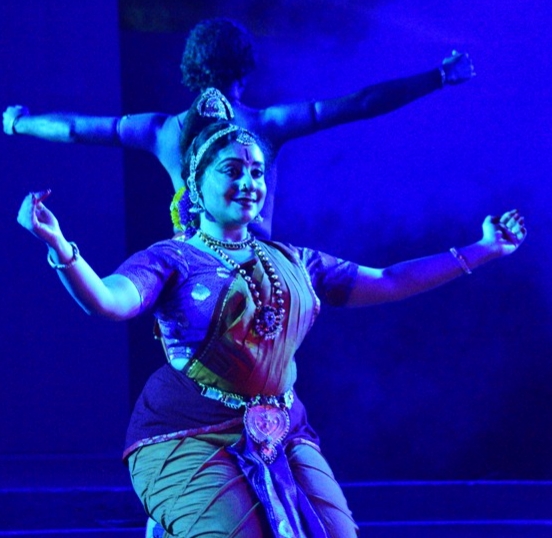 The programme started with classical-folk fusion (Ananya Odisha) by Naivedya, Bhubaneswar. Ananya Odisha projecting Odisha with its vibrant colour celebrating her spirit. The lyrics penned by Kedar Mishra, music composition by Guru Bijay Kumar Jena, Guru Sachikanta Nayak and Guru Sumanta Mohanty, rhythm composition made by Guru Dhaneswar Swain and Guru Bijay Kumar Barik and the dance was choreographed by Guru Aruna Mohanty and Bijay Kumar Sahoo.
Second presentation was Kuchupudi dance by Shambhavi School of Dance from Bengaluru lead by Guru Vyjayanthi Kashi. Their first item was Kuchipudi recital by meditating on the beautiful form of Lord Vithoba followed by Adivo Alladivo a famous composition of Talapaka Annamma Chari where he brings alive the mesmerising beauty and uniqueness of the seven hills. Their next item was Neela Megha Sareera followed by Kubje an ugly hunched woman became a beautiful woman by her love and dedication towards Lord Krishna. All presentation was choreographed by Guru Smt. Vyjayanthi Kashi.
The third presentation of the evening was Odissi dance by Nrutya Nilaya from Angul lead by Guru Swapnarani Sinha. Their first item was Agnee Shuktam a mythical theme based creation by Swapnarani Sinha followed by pure dance form Chakmravaka Pallavi.
The concluding item of the evening was Sareikela Chhau dance presented by Acharya Chhau Nrutya Bichitra from New Delhi lead by Guru Shashadhar Acharya. They are presented Jatraghat set to Tala-16 and Raga-Desh followed by Bhupati Monoranjana based on martial movement on a special tala pattern and melody. Next item was Garuda Vasuki set to Raga-Miyankimalhar and Charukeshi and Tala-8 matras followed by Pharikhandakhelo based on technical aspects that were common to the Akhada period in Sareikala Chhau.
The dignitaries who graced the occasion were Asit Kumar Tripathy, Chairman, Western Odisha Development Council, Subroto Bagchi, chairman, Skill Development Authority, Susmita Bagchi, chairperson, Mo School, Sachin Ramachandra Jadhav, director, tourism; Guru Aruna Mohanty, secretary, Orissa Dance Academy and Guru Ileana Citaristi, secretary, Art Vision. The programme was anchored by Dr. En. Srinivas Ghatuari and Nazia Sayeed.