Joda/Barbil: The 18th Punyatithi of visionary and founder chairman of O.P. Jindal Group,Om Prakash Jindal ji was observed at Barbil Pellet Plant, Kasia and Tensa Mines of Jindal Steel & Power, here on Friday. A series of philanthropic and spiritual activities have been organised across the units on this occasion.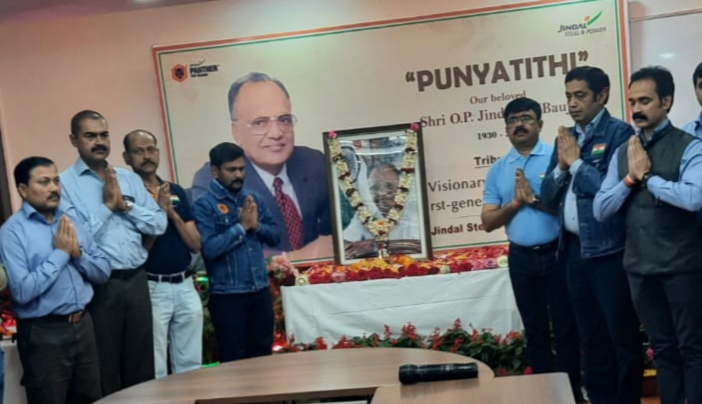 The day began with special puja and prayers at the temples of respective townships. All the employees and their family members, led by the Unit Heads, Purushotham M D, Barbil Pellet Plant, Pramod Kumar Patra, Kasia Mines and Kamalakanta Nanda, Tensa Mines along with other senior executives participated in the rituals and paid their homage to the divine soul.
A Blood Donation Camp was held at the Barbil Pellet Plant by the JSP Foundation, the social arm of JSP in association with Red Cross Society, where about 150 people volunteered to donate blood. The Camp was inaugurated by Prashant Kumar Hota, President & Group Head CSR along with Purushotham and Shri Patra in presence of Sarat Kishore Panda, HR Head and Ashish Ranjan Mohanty, IR Head. Remembering O.P. Jindal ji on his Punyatithi, Prashant Hota said, "Our beloved Bauiji was a visionary who is remembered for his business excellence and social responsibilities alike, he believed that without the upliftment of weaker sections of the society, a nation can never prosper. Thus, he spent a lot of time in alleviating poverty and boost the socio-economic condition of the weaker sections of the society. With his everlasting persona, he will be guiding us for ever."
The employees, business associates and their family members of the units led by the Units Heads and senior executives of JSP Parivaar paid floral tribute to the beloved Bauji in different programs organized at these three locations. In his message on this occasion, Shri Ashish Pandey, Head Raw Materials & Slurry said, "Om Prakash Jindal Ji was a multidimensional personality, a great entrepreneur, visionary leader and nationalist, who always stressed on advanced technology and skill development to compete with rest of the world. His vision of 'Skilled India, a Strong India' is the guiding force in JSP's sustainable Social Initiatives."
Along with blood donation camp, JSP Foundation undertook various other philanthropic initiatives in the memory of beloved Bauji. On this occasion, fruits were distributed among the poor patients at the nearby Community Health Centres of Basudevpur and Joda. Also mosquito-nets were distributed among underprivileged people of the adjacent villages of Tensa mines.
Om Prakash Jindal, (7 August 1930 – 31 March 2005), also revered as Bauji in Jindal Parivaar, was born in Hisar, Haryana. He established a successful business enterprise the Jindal Group of Companies under the flagship of the O.P. Jindal Group, of which he was the Founder Chairman. In November 2004, Jindal was awarded the "Life Time Achievement Award" for his outstanding contribution to the Indian Steel Industry by the Bengal Chamber of Commerce and Industry. Jindal was appointed as Minister of Power in the Government of Haryana. He was a member of Haryana Legislative Assembly and the Parliament.