Bhubaneswar : The joint effort by the Odisha Millets Mission and the Restaurants Association of Odisha (RAO) brought Bhubaneswar and its public an exclusive one day Millet Food Festival, where visitors could witness multiple high-end restaurants along with women self-help groups creating gourmet food using a variety of millets. The festival was held on September 24 at Kalabhoomi, Bhubaneswar. Odisha Millets Mission delivered on their promise of a day filled with flavours and creative takes on millets from various chefs across the state.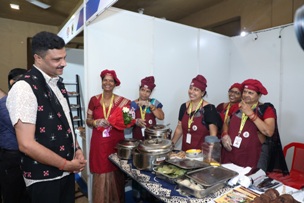 The Odisha Millets Mission is an expanding initiative through which the Odisha government aims to revive the lost millet potential of the state. Adopting a unique farm-to-fork approach, Odisha Millets Mission has been proactively promoting millets in various parts of the state, and the collaboration with RAO can be considered another crucial step in the process. Odisha Millets Mission has been systematically organising training programmes for chefs of different hotels and restaurants on millet dishes.
Agriculture department principal secretary Dr. Arabinda Padhee inaugurated the event and said that OMM is looking for active collaboration with restaurant associations to innovate new millet dishes and take them to the younger generations.
The Millet Food Festival, held on September 24, was a one-day, open-to-all event that the public could attend to experience several millet-based cuisines. Renowned restaurants from Odisha were all set to showcase their unique, delicious recipes to visitors. A crowd of over 500 visitors turned up, and the ambience was filled with conversations around millets. Michael's Kitchen, Oberai's Café, Green Chiliyz, Bocca Cafe and Odisha Hotel are some of the big names that took part in this festival. Visitors were also able to grab their favourite millet items and meals from the Millet Shakti stall by Bhubaneswar WSHGs of Mission Shakti..
The festival was also attended by A-list Odia actresses like Shivani Sangita, Bhoomika Dash, and Divyadisha Mohanty, along with various other influencers and media personalities. Through this, the Department of Agriculture and Farmers' Empowerment aims to encourage younger generations to be a part of the relish millet cuisine while educating them on the goodness of millets.