New Delhi: President Pranab Mukherjee is seemingly emerging as the new rallying point for the  Congress senior leaders who are feeling uncomfortable with Rahul Gandhi at the helm of affairs .
Recently, when the Odisha Leader of the Oppsition , Narasingh Mishra, along with his Congress MLAs  met the Mukherjee, it was said that the Congress Legislative Party went to New Delhi to submit a memorandum on Mahanadi river dispute to the President.  But , the whispers  in the Congress political circle is that the meeting was meant to impose trust on the leadership of Mukherjee. What gives credence to the whispers is that the Congress  legislatures meeting with the President  made Rahul furious. The Congress delegation was humiliated when it met Rahul later. Such was the intensity of humiliation, that the legislators were thinking of resigning from the party en masse. It was Ahmed Patel, a close aide of Congress president Sonia Gandhi, who intervened and saved the situation.  
Patel though a Sonia loyalists is not finding it comfortable with Rahul. As Sonia is not keeping good health, Patel is obviously on the look out for an alternative leadership other than Rahul.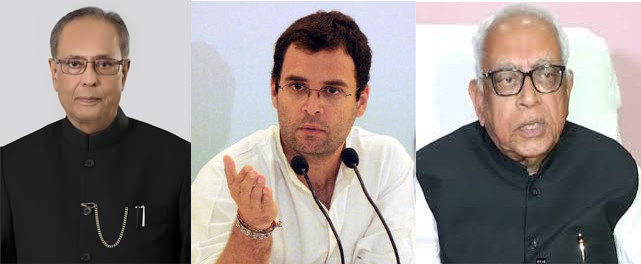 Patel is perhaps finding Pranab Mukherjee, an old Congress men, as a suitable rallying point. Recently,  he saw to it that the President inaugurate the Sardar Patel Hospital & Hearth Institute, his pet project,  at Ankleswar in Gharuch district of Gujarat.  The meeting was attended by all the senior Congress leaders of Gujarat  except party's state general secretary, Madhusudan Mishry, a known supporter of Rahul Gandhi.  Patel, a powerful man during Congress UPA government, had helped Mukherjee in overcoming various political and administrative problems during that time.  The chemistry between the President and Patel was evident at the function.
In Odisha, the JB Patnaik loyalists are finding it difficult to remain in the party with Rahul at the helm of party affairs. The way Rahul is backing Prasad Harichandan, the Biswals and Jenas are also feeling uncomfortable. A new group – loyalists of JB and Basant Biswal—is taking shape under the leadership of Niranjan Patnaik and Narsingha Mishra . And the new group is apparently rallying behind Pranab Mukherjee.  
Mukherjee, who was sworn in as the President of India on July 25, 2012 is going to complete his five year tenure next year. Will Mukherjee join active politics, taking advantage that the constitution is silent about it, breaking the precedent?