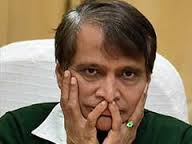 Bhubaneswar: Indian Railways has closed 2016-17 financial year with an all-time high revenue of Rs 1.68 lakh crores  powered by its focus on boosting freight traffic and innovative steps. It has loaded 1.107 billion tonnes of freight during the fiscal surpassing its target of 1.094 billion tonnes for the year. This is in spite of less export traffic, high liability of Pay Commission arrears and bonus payments.
 The freight revenue is estimated at Rs 1.09 lakh crores as against Rs 1.04 lakh crores in the fiscal 2015-16.
Stating that the railway ministry's policy intervention to bring back the traffic helped the Railways to surpass the loading target, an Indian Railways  spokesperson said the Railways offered an additional discount on loading of some commodities, giving benefit on various usage charges on freight.
Iron ore loading and transportation to steel plants increased from 117 million tonnes in 2015-16 to 137  million tonnes in 2016-17  fiscal.
The Bhubaneswar headquartered East Coast Railways has also surpassed the last fiscal figure and loaded 177.28 million tonnes freight as against 173.49 million tonnes registered in 2015-16 by registering an increase of 2% which is 3.78 million tonnes more.
A spokesperson for the ECoRly said that the zone has performer well despite a number of obstructions like less demand of coal both in national and international market, Maoists activities in major freight loading hubs, landslides and boulder falling on railway tracks disrupting train movements, labour strike at different loading hubs.
—