Rourkela:  The Rourkela Steel Plant (RSP) , a unit of the Maharatna Company SAIL has registered its best ever production performance in all major areas like Hot Metal production from Blast furnace-5, Crude Steel and Saleable Steel in the financial year 2016-17. During the said year the New Blast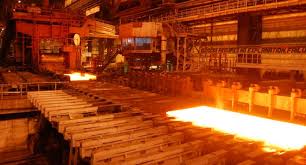 Furnace-5 made  27,57,210 tonnes of steel which is an increase of 30.5% over previous year.  All time high records were also set in the field of Total Sinter (5270089 tonnes), Total Crude Steel (2932460 tonnes) and Total Saleable Steel (2741972 tonnes).
The average rate of pushing in the New Coke Ovens Battery-6 was 87.9 per day as compared to 74.9 of previous year, while New Plate Mill, another key unit which has come up as part of the Modernisation and Expansion Programme rolled out 5,40,388 tonnes of plates which is a rise of 149% over the previous fiscal.  With this the Total plates production in RSP too touched a new high at 964001 tonnes. 
A plant spokesperson said several success stories were also scripted on the techno-economic front that plays a major role in the financials of the plant. The Coke Rate in the year 2016-17 was 419 kg per tonne of Hot Metal which is a big improvement over the previous best of 464 kg per tonne of Hot Metal recorded in 2014-15. Similarly the Specific Energy Consumption during the year was all time best at 6.430 Giga Calories per tonne of Crude Steel and Blast Furnace productivity touched the highest ever figure of 2.067 tonnes/ metre cube/day in the year 2016-17.