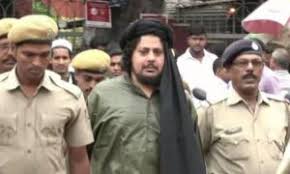 Cuttack: The suspected Al Qaeda handler in Odisha, Abdur Rehman has filed a discharge petition in the local district sessions court saying the charges against him by the police are false and groundless.
The public prosecutor, however,  opposed the discharge petition of Rehman and sought time to file a counter to it. The district judge, SN Mishra, while allowing the prosecution to file the counter by August 28, has adjourned the hearing on discharge petition till September 6.
The Cuttack district sessions court was scheduled to frame charges against Abdur Rehman but he said he would go for discharge petition under Section 239 of CrPC. The Section says that a magistrate, after examining police report and giving the prosecution and the accused an opportunity of being heard, can discharge an accused if he considers the charge against the accused is groundless. Following Rehman's discharge petition,  the court could not frame charges against the accused on Thursday.
The Delhi police had arrested Rehman from a Madrasa in the state in December 2015 for his alleged links with al Qaeda. The Odisha police have booked him under Unlawful Activities (Prevention) Act after finding that money from abroad had come to bank accounts operated by him.