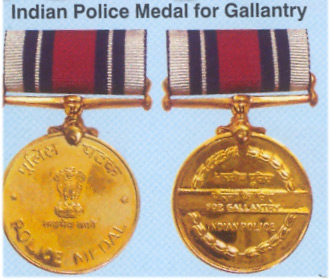 Bhubaneswar:  Odisha police's Additional SP Rabindra Kumar Mohapatra will be decorated with President's Police Medal on Independence Day at Delhi.
Besides Mohapatra, seventeen policemen from Odisha would be conferred with President's Gallantry Medals on the occasion of Independence Day at New Delhi on Monday.
The president Ramanath Kovind will decorate the medal on the chest of the brave policemen who have served the nation with distinction. The medal will conferred on Sergents Tunu Sahoo, Santanu Kumar Pradhani, Deputy subedar Kiran Kumar, Sub-Inspector Bikash Patra, Havildars Bhabani Pradhan, Amit Kumar Biswal, and Constables Manoranjan Nayak, Uday Sankar Patra, Dhandeswar Muduli, Premananda Pradhan, Mahadev Gahir, Hemanta Pradhan, Raj Kishore Pradhan, Hrushikesh Jal, Ram Chandra Hembram, Samanta Majhi,  and Suresh Chandra Hembram(posthumously ).
Eight police personnel will receive police medal for meritorious service. They are Kartikeswar Samal, ASP (Special Intelligence Wing), Kishore Kumar Dongayat,  Assistant Inspector, Naresh Patel, Assistant Commandant (Security Wing), Bijaya Kishore Dash, Sub-Inspector, Mohammad Sabir,  Havildar, Gautam Charan Swain ,Havildar, Sagar Charan Guia, Constable, and Sanjukta Patnaik,Constable (Vigilance) .