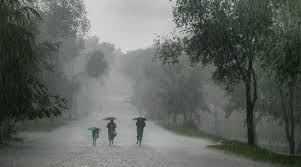 Bhubaneswar: The Bhubaneswar regional meteorological centre has issued high alert for lightnings for 18 districts of the state. The districts that are likely to be affected are Cuttack, Puri, Khorda, Nayagarh, Maurbhanj, Keonjhar, Balasore, Bhadrak, Kendrapara, Jagatsinghpur, Ganjam, Rayagada, Angul, Kandhamal,Kalahandi, Nawarangpur, Nawapara, and Dhenkanal.
Thunderstorm with lightning is likely to strike 18 districts in next 24 hours, warned the regional met office. In an advisory, the people in these districts have been asked to keep themselves indoors and take shelter in buildings and other safe locations as a precautionary measure.
During the next 24 hours one or two places in interior Odisha is likely to receive heavy rainfall. Many places in the state, meanwhile, have received rainfall. Maximum rainfall has been recorded at Malkangiri and Mandira Dam in Sundergarh district(11 cm each), Rayagada(9cm), Daspalla in Nayagarh district, Bank in Cuttack district and Narla in Kalahandi district (8cm each) .