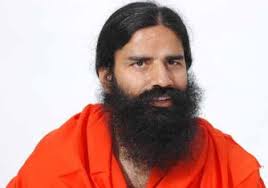 Bhubaneswar:Yoga guru Ramdev's Wednesday remark that prime minister Narendra Modi and Odisha chief minister Naveen Patnaik should join hands  sparked off a controversy in the state political circle.
Ramdev, who was here to address a convention of Patanjali distributors of the state, said that Modi and Patnaik should work jointly for the development of the state, hinting for an alliance between the two parties at the Centre as well as in the state.  coalition between the two parties.
Reacting to the statement, the Congress has said that the Yoga guru is brokering between the two rival parites.
However, the BJD senior vice president  and agriculture minister Dr.Damodar Rout has said that Ramdev should quit Yoga and join politics. He said that in the federal system, as such the Centre and the states are working in tandem.
Praising Naveen Patnaik, Ramdev said that being a best administrator he is doing good job in the state. The state need to take full advantage of its mineral resouces, human resources and the potential to develop agro-based industries.
The Yoga guru said that his Patanjali Yogpeeth was contemplating to set up up a Acharyakulam (a school based on vedic-cum-modern education) and Yoga University in Odisha in the next two years.