Bhubaneswar: National Aluminium Company Limited (NALCO),  has bagged the EEPC (Engineering Export Promotion Council, Eastern Region)Silver Trophy, in the large enterprise category, for its outstanding export performance during the year 2014-15.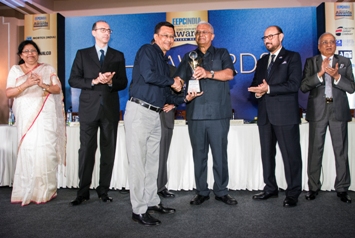 NALCO assistant general manager (Marketing – Eastern Region), G.A. Lyndem received the award from his Tripura governor Tathagata Roy at EEPC Regional Award Ceremony for Export Excellence 2014-2015, held at Kolkata on Wednesday
NALCO, which is the country's leading manufacturer-exporter of alumina and aluminium, has consistently been among the leading foreign exchange earning CPSEs of the country.
The NALCO CMD, Dr. Tapan Kumar Chand, said: "We take immense pride in the fact that we are the 2nd highest Net Foreign Exchange earning CPSE in the country as per Govt. of India Public Enterprise Survey 2015-16 report.'' He added,  "During the year 2016-17, the company has achieved highest ever gross sales turnover of Rs. 7,933 crore and our export earnings figure stood at Rs.3625 crore."