There is a saying in Odia: Want to eat Elisi, manage a job in police. This is becasue the silver coloured tasty fish Hilsa is costly.  Muth watering stories about Hilsa and its preparation by Bengali Boudi galore in folklore.
However, if one is not careful while eating Hilsa, full of bones, one may landed up in trouble.
For that matter, be careful while eating any type of fish.
A fish bone stuck in the respiratory track of a 3 year old baby in Kolla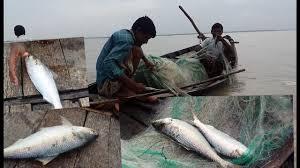 m  in Kerela forced family members to tour various hospitals in the city. However, finally the doctors at SAT government medical college hospital in Thiruananthapuram in the state capital of Kerela city removed the bone much to the relief of the baby and her family members.
Arushish complained of breathlessness and was treated in various local hospitals of Kollam. However, she could not recover from the uneasiness. After two months of suffering, she was admitted to SAT medical college hospital where an X-ray detected the cause of her breathlessness. A team of doctors performed critical 'bronchoscopy' to remove the bone that got embedded in the respiratory track of the baby.