New Delhi: Staying true to its customer-centric approach, Renault, one of the fastest growing automotive brands in India,has announced the launch of My Renault App, a user friendly smart phone application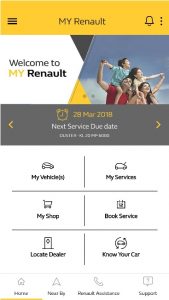 for customers. Available across the Renault range of cars, the My Renault App offers more than 60 features to customers. These include access to service history of vehicles, personalized reminders and notifications, online service appointments, interactive user manual for vehicles, easy access to dealerships and customer care, digital vaults for document storage and convenient e-payment facility.
An industry-first feature in the App is its e-commerce facility, which will enable Renault customers to explore personalization options for their vehicles and avail exclusive offers specially de
signed for their cars.
Renault India Operations country CEO and managing director Sumit Sawhney said, " We are delighted to launch the 'My Renault App', offering a seamless and convenient ownership experience to our customers. The App will supplement existing product specific Apps and will be offered at no cost to all existing Renault customers."