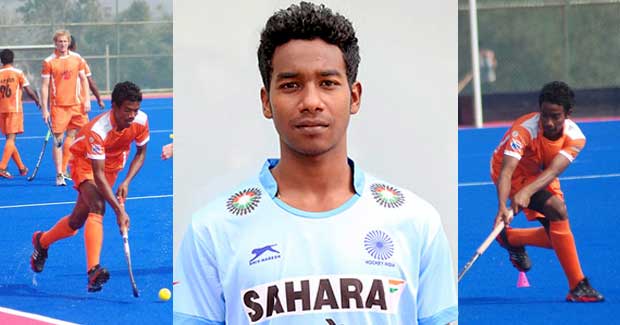 Bhubaneswar: International hockey player Dipsan Tirkey will get this year's Ekalabya Award.
IMPaCT, the social wing of Imfa announced the name of  Dipsan for the Ekalabya Award 2017. The Indian defender will be presented a citation along with a cash award of Rs 5 lakh this year as the IMPaCT is celebrating the silver jubilee year of the institution of award.
IMPaCT will also felicitate two eminent sports persons Amiya Mallick and Deep Grace Ekka on this occasion. Athlete Amiya and international women hockey player Deep Grace will be presented cash award of Rs 50,000 each.
Announcing the names of this year's winners, IMPaCT trustee and Lok Sabha member Baijayant Panda, said, "We feel humbled and gratified that our relentless pursuit to recognize and foster excellence in sports has reaped rich dividends for the state and the country. We are delighted that we have upheld the values of fairness and transparency, raising the bar with every passing year and that the prestigious Ekalabya Puraskar has carved a special niche in the hearts of sports lovers as we celebrate its 25 anniversary this year."
The award giving ceremony would be held at a date to be announced soon, said a spokesperson of IMPaCT.
Dipsen is in news now for being selected for the Indian team that would represent the country in the Hockey Asia Cup to be held in Dhaka, the captial of Bangladesh, from October 11 to 22.  He is the only from the state in the 18-member team. Dipsen, who was a member of the Indian team that emerged champion in the 8th Junior Men's Asia Cup Hockey Tournament in Malayasia, is a rising star in the international hockey arena.
International hockey players Dillip Tirkey, Probodh Tirkey and Ignace Tirkey, chess players Debashis Das  and Padmini Rout, cricketers Shib Sundar Das  and Debashish Mohanty, shooter Shriyanka Sadangi, weight-lifter K Ravi Kumar, athletes Dutee Chand, Purnima Hemram and Srabani Nanda have already received the Ekalabaya Award during the last 25 years ever since the award was instituted in 1993.