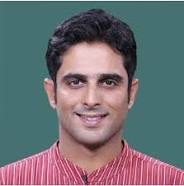 Bhubaneswar: What the vivacious Bolangir MP Kalikesh Singdeo is doing these days?
The glamorous boy of the erstwhile royal family is not flirting away his time now.  Kalikesh is into serious business, working to transform his constituency, known for malnutrition and migration, drought and deprivation.
Kalikesh's courtship with famous film actress Raima Sen was in the news a couple of years ago. The son of Rajya Sabha MP Ananga Udaya Singhdeo, and grand son of former Odisha chief minister Rajendra Naryan Singdeo was leading a clourful life before becoming an MP from BJD ticket in 2009.
He, however, has taken politics seriously now.
Kalikesh's Bolangir constituency is a rain fed area in western Odisha where drought is common. Rivers go dry every summer. So recharging  of ground water is key to solve the problem. Survey conducted by MP's research associate Sidhant Panda found that 2000-3000 people benefit from a single pond, through its impact on better ground water levels for cultivation and its potentials for fisheries development.
The young MP is out to solve the water problem of the constitutency.
Kalikesh has raised Rs 5 crore for desilting 300 ponds in three years. Fourteen are now complete.
He along with Panda is working on a project to install water ATMs in municipal areas, tapping into government schemes for fisheries projects and a medical mobile van.
His research associate Panda, an MBA from Bhubaneswar, in fact, plunged into development research after a brief stint in a major corporate house at Mumbai.
Kalikesh's initiatives are part of Supporting Parliamentarians on Analysis and Research in Constituency (Sparc), a non-profit organisation lauched by the Constitution Club of India, Tata Trust and Swaniti Initiative to focuses on supporting MPs around development issues. Sparc currently covers 20 Lok Sabha MPs who were each assigned an associate paid a stipend by Tata Trust. Hamirpur(Himachal Pradesh) MP Anurag Thakur, and Kaliabor(Assam) MP Gourav Gogoi are among the 20 covered under the Sparc.