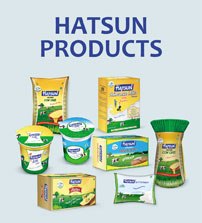 Chennai: Hatsun Agro Product Ltd. (HAP), a leading dairy company with well-known brands 'Arun', 'IBACO' and 'Hatsun', has commenced operations at its  cattle feed production facility that has seen capacity addition with the introduction of a new production line. HAP has invested Rs 60 crore to ramp up the capacity of its plant near Palani in Tamil Nadu to meet the growing demand for its cattle feed brand 'Santosa'.
The plant that had a manufacturing capacity of 550 tonnes per day(tpd) cattle feed, will now, with the expansion is able to add another 450 tpd thereby taking the total manufacturing capacity to 1000 tpd. The plant caters to the farmers need of Andhara Pradesh, Telengana, Karnataka and Maharastra besides Tamil Nadu.
According to HAP CMD RG Chandramogan, " This expansion facilitates our intention for continuous and consistent support to our farmers who seek good quality feed for their cattle. Our cattle feed has the best of ingredients and essential nutrients that improves the cattle's health and milk yield".
HAP procures milk from select fine quality cattle of over 4,00,000 farmers. HAP's portfolio includes: Arun Icecream- South India's leading ice cream brand, Arokya Milk- the country's largest private sector milk brand , Hatsun Dairy Products – a rapidly growing, wide portfolio brand of dairy products, and Ibaco – premium chain of ice cream outlets enabling consumers create their own ice cream sundaes . HAP's products are exported to 38 countries around the world.