Bhubaneswar: Even while the Odisha chief minister Naveen Patnaik is demanding that the works on Polavaram irrigation project be stopped asserting that it would affect t
he state, his Andhra Pradesh counterparty Chandrababu Naidu is eager to complete the project at the earliest.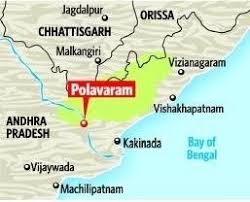 The Polavaram Project has been declared as a national project and the union water resources department is constructing the dam. The project was supposed to be completed by the end of 2018. However, it is now appears that the project would not be completed by 2018.
As the Andhra Pradesh assembly elections would be held in 2019, Naidu is keen that the project be completed by before the elections.
The Andhra Pradesh chief minister Tuesday met the union water resources minister Nitin Gadkari at the later's residence in New Delhi to discuss issues related to the Polavaram project.
Soon after meeting , which continued for  about two hours late in the evening, Naidu said, "I wanted to brief the union minister about the Polavaram project, which is why I came here."  "For ten days, I am going to America and before going, I wanted to brief about the exact position of the project to the minister…I briefed everything to him. We want the project to be completed at the earliest and I am requesting his support and he is doing his best," Naidu added.
People in Andhra Pradesh are wondering when the union minister himself had visited the Polavaram project and inspected the work progess in the early this month, what was the necessity of Naidu to again appraising him about the situation.
Naidu is feeling nervous for his poll prospect in the north Andhra constituencies if the project not completed before the elections.  For, his government has repeatedly promised to complete the project (coffer dam) by June 2018 and supply water through gravity. However, its timeline has been reset and it is likely to be completed only by mid-2019, after the assembly elections.
Gadkari reportedly told Naidu that completing the project in 2018 is impossible. He, however, assured that he would try his level best to complete it before the 2019 elections.