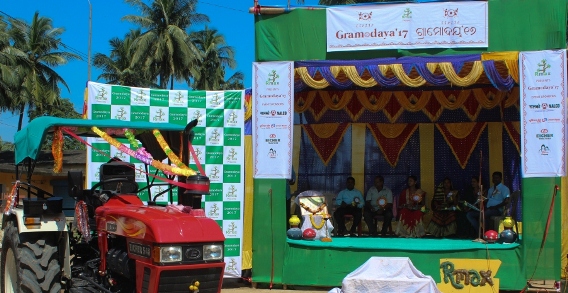 Bhubaneswar: The Xavier School of Rural Management(XSRM) of Xavier University Bhubaneswar, organised  Gramodaya 2017 at Sakhigopal in Puri on Sunday. The new initiative by Rural Manager's Association of Xavier School of Rural Management(RMAX) to promote products & services in rural areas, studying consumer perception, price preference and product preferences in the rural area. Eicher Tractors, Union Bank, Nalco and Mahila Udyog participated in the Gramodya 2017.
Satyabadi block chirman Sasmita Pradhan inaugurated the event. She said,  "Gramodaya will be very much helpful to rural people as it will allow them to know about products and get trained".
The organizations taking part in this event gave the students an opportunity to be part of a series of live projects. Mahila Udyog exhibited their wide range of products like handmade jackets, anklets, bracelets, necklace, earrings etc. Eicher tractors showcased two of its tractor models Eicher-548 and Eicher 485, wherein the customer preferences and requirements were gathered. Union Bank aimed at creating awareness about different types of schemes and services provided by Union Bank like Flexi Deposit, multi-city cheque, SMS/Mobile Banking , while Nalco conducted surveys for the existing self-help groups.