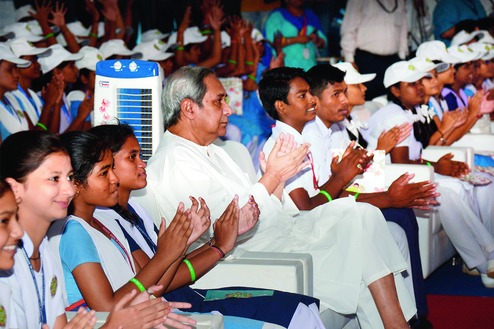 Bhubaneswar: Naveen is yet to come out of the hangover of children fest. This morning he got up with the good feeling he gathered at the festival yesterday. It seems, Naveen is feeling blessed that he had spend some wonderful time with the children  at the state level fest in the Capital High School campus in the city.
"Spend a wonderful time in the company of youngsters at the state level Children's Day celebration." With this tweet, he has started his day today. He has recalled his announcements at the fest–A number of new initiatives including Mo School and award for excellence in studies, and Odia language were announced.
Giving a call to the alumni of the school to chip in for development of their past school he has twitted, "Mo School will transform your emotional attachment with your alma mater into a permanent connect and scrip a new journey for it. Big, small contribution, association work and aid, you can do anything you want to. Sky is the limit. "
In all sense the Children Fest became a grand success. Announcements apart, the main highlight of the show was the free-wheeling interaction between the chief minister Naveen Patnaik and the children.
Naveen is happy. So also the children of the state.