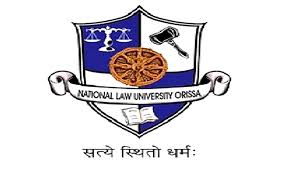 NLUO TO START COURSES IN ICT & FIFTH SCHEDULE OF THE CONSTITUTION
Cuttack: One hundred forty five students were conferred degrees at  Fourth Annual Convocation of the National Law University, Odisha(Nluo). Of the 145, while 114 were undergraduate students– 59 BA LLB and 55 BBALLB students– 30 were LLM students. One Ph.D degree and 18 god medals were also conferred on the studnets  on the occasion of the convocation, held here in the University's Amphitheatre on Saturday.
The chief justice of India(CJI) justice Dipak Mishra, chief minister Naveen Patnaik, chief justice of Odisha high court, justice Vineet Saran, and University vice chancellor Srikrishna Deva Rao handed over the degrees and gold medals to the meritorious students.
Addressing the Convocation the CJI  urged the students to give their best to the society and downtrodden people.
"Do a soul-search and decide where you can give your best in terms of betterment of the society and downtrodden-only that should be your path and destination. That should be your fundamental aim of a lawyer", he said.
Stating that the students must be pondering today which field of law (litigation, corporate or teaching) is more lucrative, and which direction would lead them to success, justice Misra urged the students to think about the terms 'lucrative' and 'success'. "DO not think of lucrative in mere terms of material gain, and do not restrict your mind to think of success as a status symbol. The first step is to recognise where your passion lies.", he added.
He reminded them that it is much better to be known as an ethical lawyer than a successful one. However, he added, that no one can stop them from becoming both. Be innovative and unique, he urged.
The vice-chancellor Rao said that the university follows a socially relevant curriculum and is offering innovative courses like Animal Welfare Law, Election Law, Democracy, Law on Mines and Minerals, Litigation Management in Higher Education, Copyright Law in the Entertainment Industry and will offer new courses like ICT courses for Law students, Course on Fifth Schedule of the Constitution. The university also focuses on innovative methods in teaching and learning. He said that the university has set up new research centres like Access to Justice, Centre for Child Rights, Centre for Law, Entrepreneurship and Innovation, Centre for Maritime Law, Centre for Film Studies. The university is also partnering with the state government of Odisha for various research projects.
The Registrar of Nluo Dr. Dolly Jabbal also spoke on the occasion.
The Convocation also witnessed release of four journals – NLUO Law Journal, Human Rights Law Journal, NLUO Students Journal and Child Rights Law Journal.
Final List of Gold Medal with student name 2017 (1)