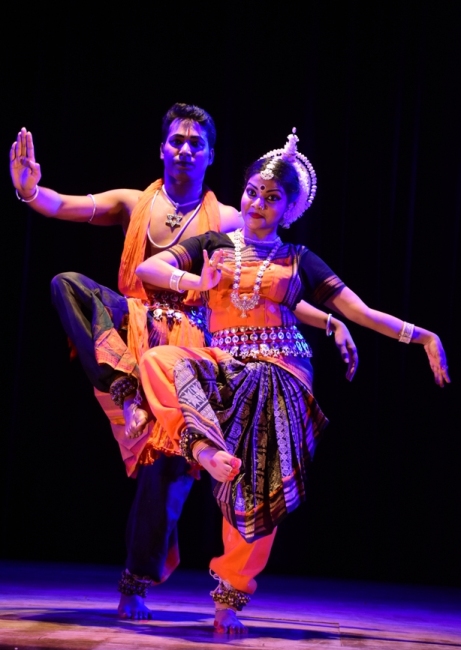 Bhubaneswar: The five-day International Odissi Dance Festival got off on Tuesday with over 400 dancesues from all over world participating in it.
The inaugural day saw solo dancers stealing the show. In the first session, solo by Shovali Ray, Purnata Mohanty, Jyoti Ranjan Das, duet by Nooraja and Thithibhadra Mohapatra from Bhubaneswar and Sushree Sangita Nayak and Anayana Parida of Cuttack presented graceful performances. 'Pallabi' by Rabindra Atibudhy and his troupe from Mumbai, and 'Devi' by Alpana Nayak and her troupe from New Delhi were the last two items of the session.
Guru Banamali Moharana and Guru Durga Charan Ranbir graced the first session.
In the second session, solo by Leena Mohanty, Madusmita Nayak, Surendra Mohapatra, Ankita Rath, Leema Bhola, Debasree Patnaik, Debashis Patnaik, Reena Jana and in duet by Pritpriya & Bindupriya, and Subha Maiti & Poulami Chakroverty enthralled the audiance. US-based dance organisation Urbasi presented a group dance.
Eminent dancers Kumkum Mohanty, Aruna Mohanty, Ileana Chitarist and Ratikanta Mohapatra, GKM Odissi Research Centre in-charge Sangita Gosain, well known sculptor Raghunath Mohapatra and retired bureaucrat Ashok Triptahy  graced the opening day of the Festival. Bhubaneswar MP Prasanna Patsani inaugurated the Festival in the presence of  MLA Priyadarshi Mishra.