Rourkela: The writers and publishers of Sri Lanka felicitated Rourkela Steel Plant chief of  communication (CoC) Ramendra Kumar, recently at a function held in Godage Book Emporium of the island country.
Chief of Communications of Rourkela Steel Plant (RSP) was felicitated by the Writers and Publishers of Sri Lanka, for his significant contribution to children's literature, on   22nd December at Colombo.
Award winning publisher Deshabandhu  Sirisunama Godage, and acclaimed translator Bobby G. Boteju honoured Ramendra.
Kumar was honoured for his significant contribution to children's literature.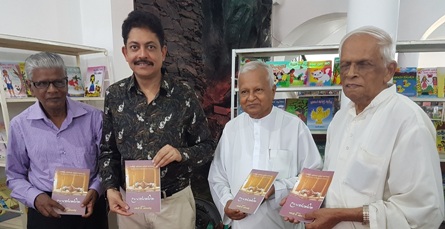 Earlier, Kumar's book 'Dilemma and other stories' translated into Sinhala was released by the dignitaries.  This is the writer's 4th book in Sinhalee. His latest book in English, 'Against All Odds', published by Duckbill Books, had its first overseas release on the occasion.
During his visit to Sri Lanka, Ramendra addressed a large gathering of  students, teachers and parents.  The Indian author received first copies of 40 books written by children. He also addressed the students and the academia of the  University of  Sri Jayawardenapura,   Nugegoda, on 'My Tryst with Literature' . 
Ramendra is an award-winning writer with 32 books to his name. His writings have been translated into 14 Indian and 13 foreign languages and have found a place in school text books as well as anthologies both in India and abroad. He is a much sought after inspirational speaker and storyteller.